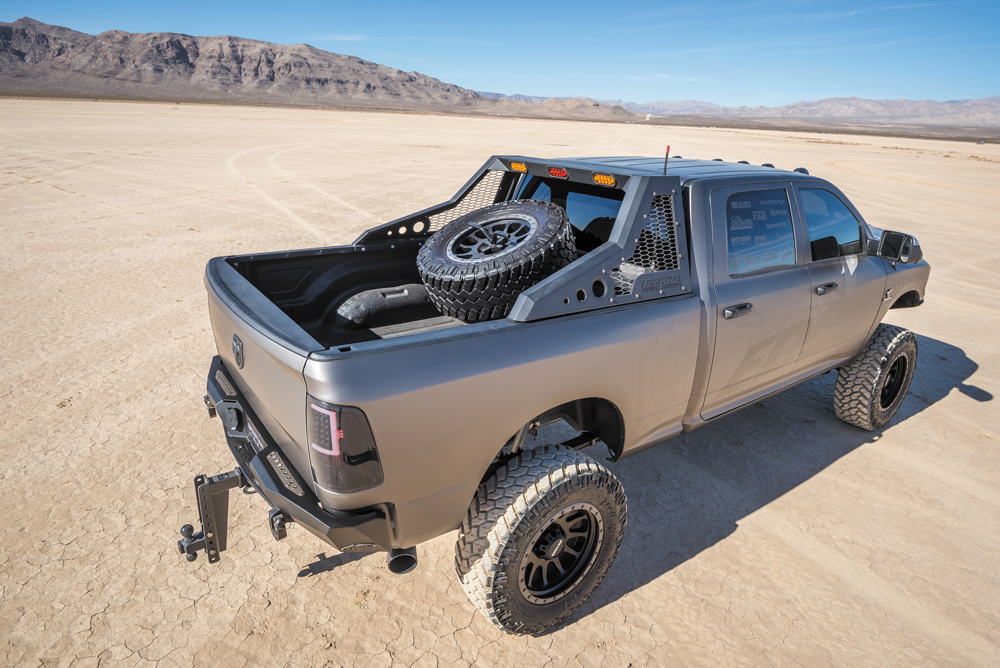 SPARTAN 4X4 RAM
Leonidas is a 2013 RAM 2500 that was built for The SEMA Show 2018. It represented Edge Products at the show, and showcased the capabilities and youthful energy of Spartan 4×4, an up and coming Kentucky off-road shop. Leonidas is Spartan 4×4's first SEMA build, and surely not their last.
Through contacts at Holley Performance, the team at Spartan 4×4 was able to tell their story and Leonidas build ideas to Edge Products. Through that interaction, Spartan was selected to be a feature vehicle at The SEMA Show 2018 for Edge Products.
Spartan 4×4 is a young company run by young entrepreneurs and motor heads, all in their early 20s. It was founded in 2015 by Robert Bowden III, in his parents' garage, outside Atlanta, Georgia. Bowden is now only twenty-two years old.
Spartan 4×4 is making a name for itself in the industry for their high quality and unique builds. The Spartan 4×4 shop in Bowling Green, KY is officially now on the map, and has big plans for expansion in the works.
PURPOSE
Leonidas is a show truck, but it is also the workhorse of the Spartan 4×4 fleet. While it shines up pretty, it also gets work done by pulling Spartan's 25-foot gooseneck trailer, usually loaded with the shop's other builds to shows all over the country.
The concept of the Leonidas build was to meld the lifted diesel show truck with the functionality of a chase truck and pre-runner. On top of all that it also had to be a functional tow rig. This was an inspired vision, and one the Spartan 4×4 team managed to pull off with style.
ORIGIN STORY
This 2013 RAM ST Crew Cab diesel was purchase from a farmer in Metcalfe County Kentucky, essentially the middle of nowhere USA, by Spartan 4×4 in early 2018. Turning this once farm truck into a show vehicle and towing machine was no small task. To make the accomplishment all that much more impressive the team at Spartan 4×4 had only 6-months to make this transformation happen before the big reveal at The SEMA Show 2018.
If there's such a thing as a normal SEMA build, this isn't it. Instead of being built in an enormous shop filled with the best equipment, this truck was built by the young and hungry crew at Spartan 4×4 in a small snow plow shed in Bowling Green, Kentucky.
While the base truck only set the young men back about $20,000, the top quality custom build out has run up a tab considerably. With over $45,000 in upgrades and custom parts this truck is a true show stopper.